A Proposal for Sustainability of a Palimpsest City: Nicaea
Keywords:
palimpsest, historic sustainability, cultural sustainability, Nicaea
Abstract
Turkey is a geography situated on important commerce roads like Spice Road & Silk Road connecting Asia and Europe. With the advantage of its location, Turkey has a mild climate and rich soil. Because of this physical and geographical characteristics Turkey hosted different civilizations throughout history. All civilizations located in Turkey made their own settlements and some parts of this settlements ruined because of various reasons like wars, natural disasters, migrations etc. and became layers buried underground. This layers gradually increased during history and turned Anatolia lands into a palimpsest structure.
Although not having the same significance for Ottoman Empire, Nicaea has been the capital city of Byzantium Empire. For its religious and military importance, council meetings held in the city. Thus, many important historic buildings. Because of these specialties the city was accepted to UNESCO temporary heritage list in 2015. In our days many researches and excavation works are in progress to determine and reveal the historic and cultural layers of the city.
In the scope of this research; Nicaea as being one of the most valuable cities of Turkey and Anatolian history, will be examined in comparison with Thessaloniki (Greece) ve Byblos (Lebannon, Jbail) cities for their similar palimpsest structures and historical importance. Research will be done by literature review and map analysis on cities functional structures. The aim of this research is to compare these three palimpsest cities by means of their physical, social and spatial properties. The findings will be used to propose strategies in order to achieve cultural and historical sustainability of Nicaea.
References
- AlSayyad, N. 2000. Global norms and urban forms in the age of tourism: manufacturing heritage, consuming tradition. Consuming Tradition, Manufacturing Heritage: Global Norms and Urban Forms in the Age of Tourism, pp. 1-34, Routledge mot E F & N Spon, New York.
- Azimzadeh, M., Bjur, H. 2007. The urban palimpsest: the interplay between the historically generated layers in urban spatial system and urban life. Proceedings, 6 International Space Syntax Symposium, Technical University Faculty of Architecture, Istanbul, pp. 1-14.
- Belge, B. 2005. Urban Archaeological Issues and Resources in İzmir Historic City: An Exploratory Case Study. Master Thesis, METU
- Brown, B. 2011. Connectivity in the Multi-Layered City: Towards the Sustainable City. Open House International Vol 36, No.2, June 2011
- Gemenetzi, G. 2016. Thessaloniki: The changing geography of the city and the role of spatial planning. http://dx.doi.org/10.1016/j.cities.2016.10.007
- Gospodini, A. 2004. Urban morphology and place identity in European Cities: built heritage and innovative design. Journal of Urban Design 9(2):225-248.
- Graburn, N. H. H. 2001. Learning to consume: what is heritage and when is it traditional. Consuming Tradition, Manufacturing Heritage: Global Norms and Urban Forms in the Age of Tourism, Routledge mot E F & N Spon, NewYork.
- Hastaoglou-Martinidis, V. 1997. A Mediterranean City in Transition: Thessaloniki between The Two Wars. University of Nis The Scientific Journal of Facta Universitatis, Architecture and Civil Enineering Vol.1 No.4 pp. 493-507
- Horn, S. H. 1963. Byblos in Ancient Records. Andrews University Seminary Studies (AUSS) Vol. 1 No.1
- ICOMOS Report of World Heritage List No 456, 15 January 1987, Northern Greece
- ICOMOS Report of World Heritage List No 295, 2 December 1984, Northern Lebanon
- Karadimou-Yerolympou, A. 2008. The urban space of Thessaloniki: Long durations and fast transformations at the background of the Balkan territory. In G. Kafkalas, L. Labrianidis, & N. Papamihos (Eds.), Thessaloniki in a 'cut-off' line — The city as a proce- dure of transformations, [in Greek] (pp. 95–150). Athens: Kritiki.
- UNESCO Report of Integration – İznik, 15 April 2014 – http://whc.unesco.org/en/tentativelists/5900/
- Vâlceanu, D.G., Kosa R. A., Tămîrjan, D.G. 2014. Urban Landscape as Palimpsest. Urbanism. Arhitectură. Construcţii, Vol. 5, Nr. 4
-Figure1. Google Earth, 37°25'14.22"K 30°12'48.80"D , 20.02.2017 sa. 19.30
-Figure2. http://digilander.libero.it/capurromrc/!49byblos.html
-Figure3. whc.unesco.org/en/documents/117849
-Figure4. owner https://tr.pinterest.com/pin/432134526718532290/activity/saved/
-Figure5. http://www.lissistrati.org/tr/uncategorized-tr/sismanoglio-megaroda-konusmalar dizisi-osmanli-selanikinin-hafizasi/
- Figure 6. Bursa Rotary Klübü Yayınları
- Figure 7. Nicaea Museum Archive
- Figure 8. Byblos- City walls, Citadel & Roman Theatre
- Figure 9. Thessaloniki- City walls,Main Axes, Forum, Citadel & Roman Theatre
- Figure 10. Nicaea- City walls, Main Axes & Roman Theatre.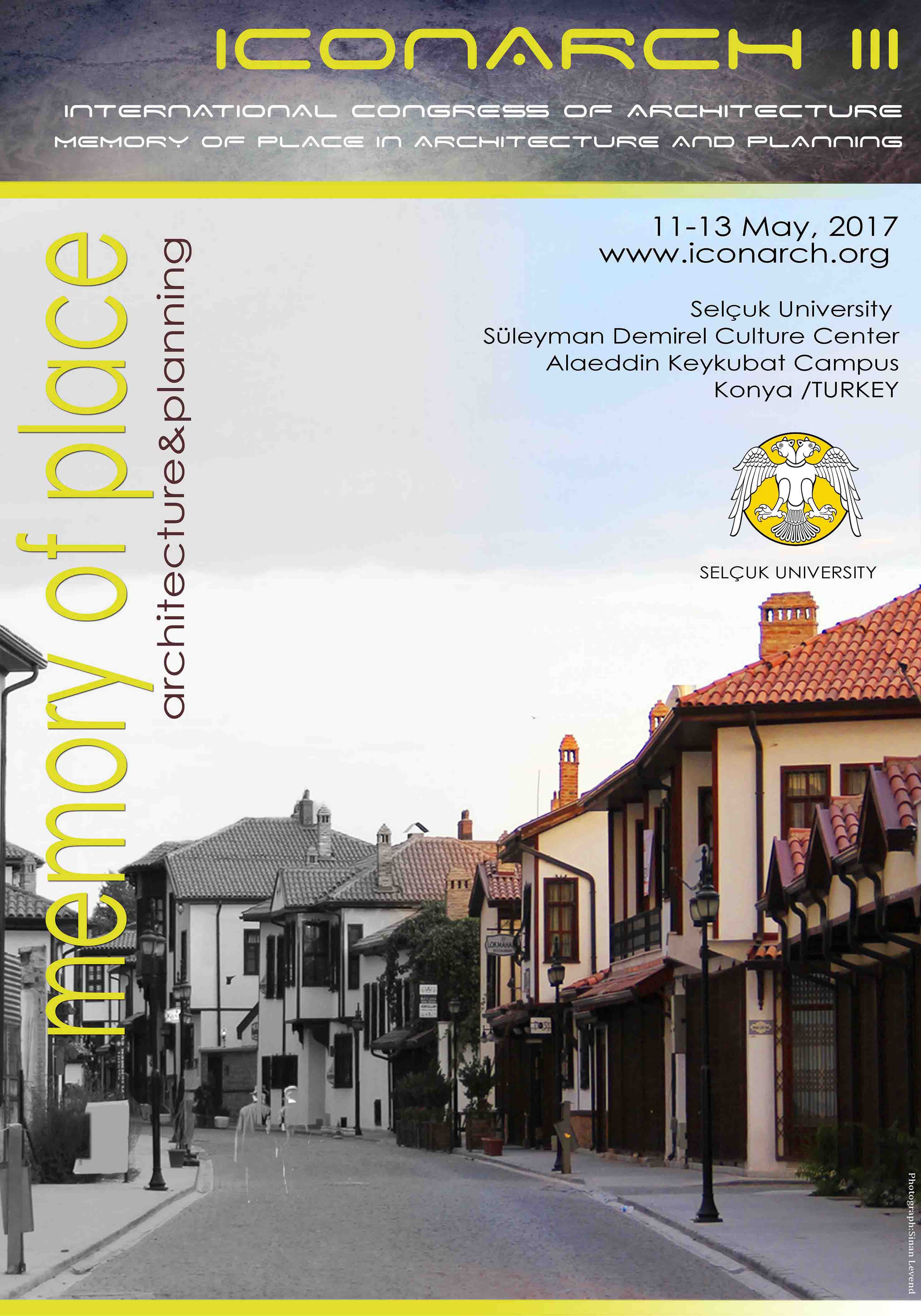 Downloads
How to Cite
Kırlı Özer, G., & Çahantimur, A. (2017). A Proposal for Sustainability of a Palimpsest City: Nicaea. ICONARCH International Congress of Architecture and Planning, (1), 78–88. Retrieved from https://iconarch.ktun.edu.tr/index.php/iconarch/article/view/164
Section
Session 1 30 Ağustos Hall
License
Copyright (c) 2022 Gözde Kırlı Özer, Arzu Çahantimur
This work is licensed under a Creative Commons Attribution 4.0 International License.