Reading the Concept of Anti-Architecture Through Baudrillard's Discourses
Keywords:
Anti-Architektur,, Baudrillard, Architecture, Concept, Discourse
Abstract
Although he strongly rejects it, Jean Baudrillard, who is regarded as one of the pioneers of Postmodernism, has studies in various disciplines such as; history, sociology, media, economics art and aesthetics. In addition, he has studies expressing different ideas about the discipline and future of architecture. According to Baudrillard, nowadays one of the problems of architecture is to say that architecture cannot be done without the idea of architecture and history of architecture. If you have an architectural project idea; different data about space, history, environment, elements of the project, objectives; all of which will, at a given moment, lead to the formation of an unexpected object that will make it truly different from the initial project. In Baudrillard's words, nowadays everything is caught by cancerous cells of culture; architecture also has its share. In our age, in architecture, as in all areas, the real is lost in the virtual. He says that this "radical" hypothesis is not pessimistic. Baudrillard wants architecture and architectural objects to remain out of the ordinary and does not desire it to be reduced to "virtual reality".
The aim of the study is to read the concept of Anti-Arkitektur, which Jean Baudrillard described in his work titled "Architektur: Wahrheit oder Radikalität? (Architecture: Truth or Radicality?)", through the sub-concepts used to describe the concept in the book. Baudrillard has defined the concept of Anti-Arkitektur as structures that only function as a pure phenomenon, a pure object, without any aesthetic value. The main reason why Baudrillard's work is a sample is that he mentioned the concept of Anti-Arkitektur only in this work. NVivo 12 program, which is frequently used in qualitative research, was used to obtain study findings. Within the scope of the study, by entering the text into the program, the frequency of use of the concepts was determined. The concepts obtained were made into a word cloud in line with word grouping systems. Then a table was created with the English meanings of the concepts. An architectural scene in which radicalism does not exist allows us to return to the primitive period of space. In this sense, architecture now serves as an "Anti-Arkitektur". Architecture is largely doomed today merely to serve culture and commu- nication. In other words, it is doomed to serve the virtual aestheticisation of the whole of society. The method of the study is qualitative research because it is a study conducted through discourses.
References
Adanır, O. (2004). Baudrillard'ın simülasyon kuramıi üzerine notlar ve söyleşiler. 2. Basım, İzmir: Dokuz Eylül Yayınları.
Anık, M. (2016). Aykırı bir düşünür olarak J. Baudrillard ve gösteriş amaçlı tüketim. Journal of International Social Research, 9(47), pp. 441-453.
Baudrillard, J. (1999). Architektur: Wahrheit oder radikalität?. Literaturverlag Droschl Graz.
Baudrillard, J. (2003). Mass, identity, architecture: Architectural writings of Jean Baudrillard, Edit: Francesco Proto , Wiley Academy, Chichester.
Baudrillard, J. (2005). François L Yvonnet ile söyleşi. Yaşar Avunç (çev), İstanbul: İnkılâp Yayınları.
Baudrillard, J. & Nouvel, J. (2011). Tekil nesneler. Çev.: Aziz Ufuk Kılıç, İstanbul: Yapı Endüstri Merkezi Yayınları.
Baudrillard, J. (2014). Cool anılar I-II (1980-1990). Çev.: Ayşegül Sönmezay, İstanbul: Ayrıntı Yayınları.
Baudrillard, J. (2017). Simulakrlar ve simülasyon. Çev., Oğuz Adanır, İstanbul: Doğu Batı Yayınları.
Best, S. & Kellner, D. (1996). Postmodern teori. Mehmet Küçük (çev.). İstanbul: Ayrıntı Yayınları.
Clarke, D. B. (2003). The consumer society and the postmodern city. USA: Routledge Pub.
Clarke, D. B. & Doel, M. A. (2018). Jean Baudrillard, mekan ve yer üzerine büyük düşünürler.
İstanbul: Litera Yayıncılık.
Dağ, A. (2011). Ölümcül şiddet: Baudrillard'ın düşüncesi. İstanbul: Külliyat Yayınları.
Gane, M. (1993). Baudrillard live: Selected interviews. Mike Gene (ed.), London: Routledge. Heger, R., Lang, A., & Tschögl, G. (2001). Kulturperspektiven burgenland. BFG-Burgenländ.
Forschungsges.
Hunt, C., Gao, J. & Xue, L. (2014). A visual analysis of trends in the titles and keywords of top-ranked tourism journals. Current Issues in Tourism, 1-7.
Mathews, D., Franzen-Castle, L., Colby, S., Kattelmann, K., Olfert, M. & White, A. (2015). Use of word clouds as a novel approach for analysis and presentation of qualitative data for program evaluation. Journal of Nutrition Education and Behavior, 47(4), pp. 26. doi:10.1016/j.jneb.2015.04.071
Orkunoğlu, Y. (2007). Nietzsche ve postmodernizmin gerçek yüzü. İstanbul: Ceylan Yayınları.
Rigel, N. (2003). Kadife karanlık: 21. yüzyıl iletişim çağını aydınlatan kuramcılar. İstanbul: Su Yayınları.
Ulaş, S. E. (2002). Felsefe sözlüğü. Haz. : A. Baki Güçlü, Erkan Uzun, Serkan Uzun, Ümit Hüsrev Yolsal, Ankara: Bilim ve Sanat Yayınları.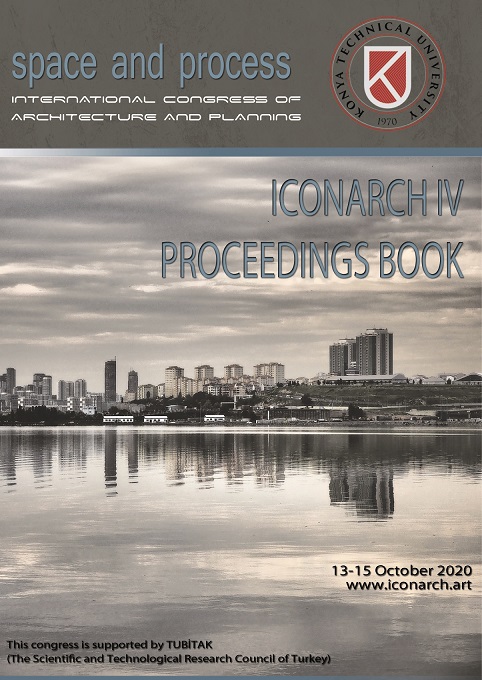 Downloads
How to Cite
İsmailoğlu, S. ., & Beşgen, A. . (2020). Reading the Concept of Anti-Architecture Through Baudrillard's Discourses. ICONARCH International Congress of Architecture and Planning, (Iconarch -IV Proceeding Book), 187–195. Retrieved from https://iconarch.ktun.edu.tr/index.php/iconarch/article/view/243
Section
SESSION 2A Theme: Architectural/Urban Design, Art and Aesthetics
License
Copyright (c) 2022 Semiha İsmailoğlu, Asu Beşgen
This work is licensed under a Creative Commons Attribution 4.0 International License.